Albany, NY Public Library Project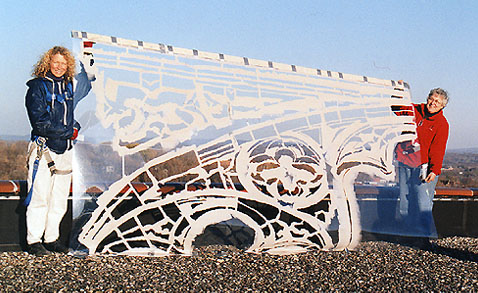 P.J. and her mom, Sally Goddard, on the roof of the library with a 6.5 foot x 12 foot
stencil made of Heavy Duty E-Z Cut Stencil Material.
Multiple stencils were used to create the look you see in the pictures below.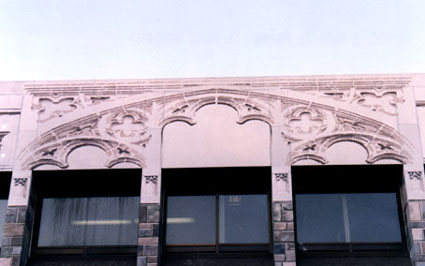 New library front facade
We created huge stencils for this Trompe l'oeil ("trick the eye") Project: painting gothic arches and embellishments on the facade of the Albany Public Library We used Heavy Duty E-Z Cut Stencil Material to create stencils that were as large as 6.5 feet high by 14 feet long, with as many as 5 overlays. The stencils were used 6 times across the library's facade. We taped multiple sections of 36" Heavy Duty E-Z Cut together with strong clear packing tape, (all along the whole length on both sides), THEN cut the stencils with the stencil burners. The stencil burners cut through the tape easily. We used strong clear tape, the type used for assembling packing boxes. The stencils worked beautifully and withstood strong windy conditions & snow when the we were painting with them on the 3rd story of the outside of the library building.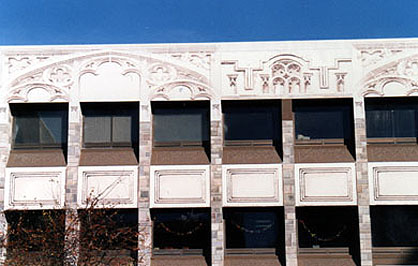 Back to E-Z Cut Plastic Info
Copyright 2013 by P.J.'s Decorative Stencils! Site updated 9~9~20