Original Free-Flowing Ivy - Large only Item 215
3 overlays; 33" long x 15" wide. Largest leaf is about 3" x 3"
A natural balance of detailed leaves and airy, curving vine for random placement.
click to see all three sizes of the Free-Flowing Ivy together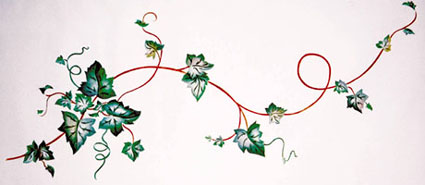 Regular Price $55
SALE Price $40
Over 25% off
regular price!!!
Order your Ivy Stencil today - supplies are limited.
---
You can only add ONE ITEM to the shopping cart at a time.
Use your browser "BACK" (<-) button to return and make further purchases.
Copyright 2013 by PJ's Decorative Stencils! Site updated 9~9~20