Round Tip for Electric Stencil Burner 1/16" (not angled) Item 007a
$7.00 each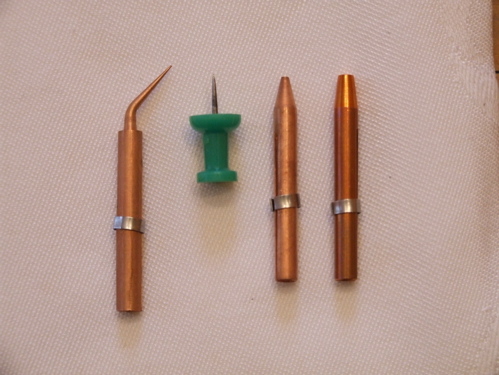 Tips shown here: Fine-point angled tip, push-pin, 1/16" round tip , 1/8" round tip

These tips are used by quilters and others who want to cut a thicker line than they can get with the fine-point angled tip. These tips slide on/off the burner shank (they do not screw on). These tips fit Air Nouveau stencil burners and Hot Tools stencil makers.
We recommend keeping your extra replacement tip taped to the metal burner stand, to make it easy to find when you need it!

---
You can only Add ONE ITEM to the shopping cart at a time.
Use browser BACK button to return and make further purchases.
Copyright 2013 by PJ's Decorative Stencils! Site updated 9~9~20