Stencil Burners

For cutting your own stencils the easy way, you can use a stencil burner--a tool that's like a wood burning tool--just trace the design with it and the stencil practically drops out! The Electric Stencil Burner has a comfortable wooden handle, a fine-tipped point, and the tip is at an angle to the burner, so it is easy to hold like a pencil. This is the best burner to use for cutting very intricate stencils. The electric cord is almost 6 feet long.

Electric Stencil Burner with one fine-point angled tip (120V - for use in North America) $29.95 Item 004

�



Foreign Electric Stencil Burner with one fine-point angled tip (230/240V 20 WATTS) **foreign electric current** $39.95 Item 004A

***Highly recommended:
~ Click here to see the sturdy metal stand that holds the stencil burner-- it's a great safety feature!
~ Purchase E-Z Cut or Heavy Duty E-Z Cut Stencil Material to cut with the burner. These materials are formulated to work with the stencil burner, and get superior results when compared to mylar or acetate films.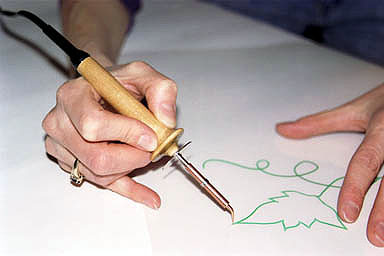 ---
You can only Add ONE ITEM to the shopping cart at a time.
Use browser BACK button to return and make further purchases.
Copyright 2013 by PJ's Decorative Stencils! Site updated 9~9~20